I'm in need of some more people that want to do a guest post on my blog. If you have a tutorial of a craft that you want to show off and want to do a guest post, please email me at kaysiscrafts@gmail.com.
About a year ago I attempted to do an etsy shop. It didn't go too well. So I stopped. Well I thought that I might try it again, we'll see if I have the time. But I do have a couple things for sale.
I'm also planning on doing some vinyl also. Hopefully I can do some custom orders too. So if there is something you want in vinyl (like a family for your car, name or certain saying) shoot me an email and I can make it for you.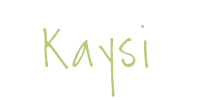 Check out these sites!!