I'm so excited for this week!! My much needed break was great last week and I got quite a bit done. I didn't get caught up but enough to not feel so overwhelmed with it!
As for scrapbooking week, here is the plan:
Today I'm going to start a linky party so you all can show me all your scrapbook pages! It will be open until Friday afternoon. I will go through all of them and feature a few at the end of the week.
I'm going to be posting all the scrapbook layouts that I got finished all week.
On Saturday we'll end this great week with features and a giveaway!! So stayed tuned all week for some scrapbooking fun!!!
Here is a very simple layout that I did for my son's fifth birthday. On major reason that I scrapbook is to journal and document my children's lives. So I decided that from the age of 5 on, on their birthdays I'm going to do a page about some of their favorite things at that age. So this is how I did it. I'll change up the layout each year.
And now onto the linky party!! Link up your scrapbook ideas and then grab my button so other people can join the fun!!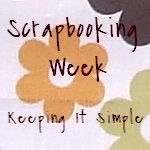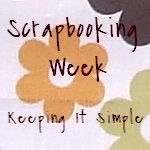 ***Motivate Me Monday is the next post***