So I love pillowcase dresses, they are so cute!!! But with my daughter being so young and it being winter, I decided to make a pillow case shirt instead. I'm so glad that I did, I'm going to be making more of these!! I used a tutorial from
Nap Time Crafts
and just altered it a little bit.
First off, you need to determine how much fabric to cut. I went off the charts from
Naptime Crafts
and then altered it for a 3 month old.
Length:
You can measure your child, from the shoulder to where you want the shirt to land. My baby was 9″. Then you will add 3 inches to allow for seams.
Width:
6-18 months – 15″ wide
2T-4T – 16-20″ wide
5-6 – 21-24″ wide
The 15″ wide was a little too big for my baby, so mine was 13″ wide
This is how I made it:
1) I cut two pieces of fabric, each were 13″ wide and 12″ long.
2) I then pinned on the ric-rac and sewed it onto the fabric before I put the two pieces together. I figured it would be easier to sew it onto in now rather than later.
3) I then put the fronts together and sewed a 5/8″ seam.
4) I then ironed the seam down
5) Then I folded the fabric in half and cut out a J shape for the arm hole. I cut 3″ from the top and 1 1/2″ from the side.
6 month – 2T – cut down 3″ from the top and in 1.5″ from the side
3T-4T – cut down 4″ from the top and in 2″ from the side
4 and 5 – cut down 5 or 6″ from the top and in 2″ from the side
6 – cut down 7 or 8″ from the top and in 2″ from the side
6) I folded the arm hole over and ironed it. I did that again and then sewed it.
7) Next I pinned and sewed 1 inch. Make sure when you are sewing it to leave an opening for the ribbon.
8) Then I folded the bottom about 1 inch and folded it again another inch and hemmed it.
9) I used 24″ inches of ribbon, for a larger size you will need about a yard. I put the ribbon through the hole.
And just like that, you have a super cute shirt!
Here's my cute girl in it!
When I was making her a clip for her hair, I decided that it would be cute to put one on the shirt too.
Here's another one that I made with bias tape around the arm holes and some brown fabric at the bottom instead of ric-rac.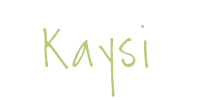 Check out these sites!!