I'm still on the fence with this whole
etsy shop
thing. I would love to sell crafts, but I want to make it worth my time. Anyway, I just added a couple more things to it this past week. If you have any suggestions for me, I would love to hear them because I need all the help that I can get!
This shirt is so cute, I even used my
Stitches 'N Giggles
fabric. I put a lot of time into it, it was just a little too small for my little girl…. 🙁
I'm thinking about trying to sell vinyl decals, any thoughts on that?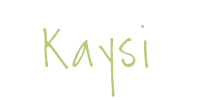 Check out these sites!!