Riley and I stained the outside of the pieces so that it would look finished when it was hanging on the wall.
I decided I wanted to use scrapbook paper for the background and the letters. I free handed the letters onto the scrapbook paper.
Once I cut them out, I realized that you could see the pencil marks. (Don't worry about this because the Mod Podge is going to cover this up.)
I then took my pieces and traced them onto the scrapbook paper that was going to be the background.
I alternated the paper for each of the letters. I used spray adhesive to glue the pieces down. The spray adhesive does not bubble, but you need to make sure that you use it in a well ventilated area.
The letters were placed down using Mod Podge on the bottom and top of the letters. (This is where the pencil lines went away.)
I hammered on sawtooth hangers onto the back of each tile. The package said to tap it into the wood, but I definitely had to hammer it on down.
Voila! The toothpaste stayed on the wall. Minty fresh and straight!
I put the nail into the center of the toothpaste and then cleaned up the toothpaste.
I couldn't even get over how easy it was. I, normally, never hang pictures because I am terrible at it, but this made it so easy!
There it is in all of its glory!
Every time I open that closet it makes me smile because I think of my beautiful family. I am so blessed! I'd like to thank all of Kaysi's readers for letting me share a project that is close to my heart!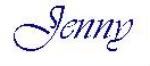 Thanks for that fun post Jenny. I love the colors that she picked!!