HAPPY EASTER!!! I hope that everyone had a wonderful Easter this year!! We got to spend our Easter on a much needed family vacation (we haven't gone anywhere since August!). How was your Easter weekend?
This next couple of weeks, I'm going to be taking a "break" from blogging. I'm going to still be posting a little bit but not everyday like I usually do. Sometimes I get a little burnt out from this blog, so I need a little break.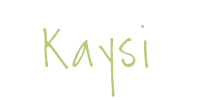 Check out these sites!!