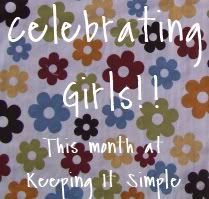 I decided to make my daughter's blessing dress. This was my first time ever using a pattern and making a dress. For my first, it wasn't too bad. It's far from perfect but she looked beautiful in it and that's all that matters!
I've never used a pattern before, so I didn't know what I was doing half the time. At one point it said "baste" and all I could think about turkeys…. I did do somethings different from the pattern. I added an extra layer of sheer for the bottom and a 3″ band at the bottom. Then I bought some pleated ribbon and put that on it too.
Here's my super cute girl in it!
For blessing day, I made her a headband,
clip
and a pearl bracelet. Then I made all three of my boys matching
ribbon bow ties
. It was a wonderful day!