I love it when I inspire people to create and craft, it makes me so happy! Well my
Easter wreath
has done just that. I've had several links and emails telling me that they have made one. So here are some that people are making!
Wendy emailed me these super cute wreaths. She made two of them! I love her different color grass and ribbon in the middle!
I really thought about getting themed eggs, but the "cheap" part of me decided to go with the $.67 eggs instead. So I'm so glad that she did it, because it's so cute!! I'm so tempted to make this one for my boys' door!
Allison emailed me her wreath, I love the ribbon in the middle and the shiny eggs!
Jamie from
Two Plus Jilly
made one at the same time as me! I love that bow!
Ranae sent this one, love it with the yarn!
Did I inspire you to make an egg wreath? If so, leave a comment with a link or email me (kaysiscrafts@gmail.com) with a pictures so I can add you too!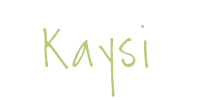 Check out these sites!!