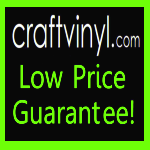 A huge variety of vinyl at super low prices! Plus this Friday, you can get free shipping!
Hi everyone!!!! I can't believe that it's another week! I got spoiled this past week, my husband had Monday off and he took Friday off for my birthday, so it was a three day week! It was awesome and went by so fast! Since Monday was a holiday this week, I didn't have a chance to go through the links, sorry!!! We were busy spending time with the kids and checking out the children's museum in SLC.
Here is the most viewed link last week:
A
home remedy
to help with headeaches. As I sit here with headache, I'm thinking I might have to try this!!

I can't wait to see what you did this past week!