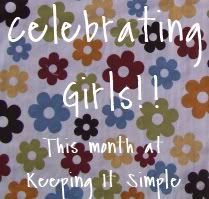 I don't know about you, but I am loving this girl month, it's been so much fun to think about girlie things!! Hooray for being a girl :). When I saw this
idea
, it immediately hit my to do list. So I finally got to it and I love how it turned it. I love how it looks and the fact that I could use scrap fabric for it, it's great!
This is how I made it:
1) I measured the width of the band. You'll have to double the distance and add 1/2″. So mine was 5/8″ and so I cut my strip 2″. Cute watch face, huh? I got it from
Chunky Bling!
2) Then measure your waist and add 2″ to it. Mine was 6″ so I cut the strip 2″x8″
3) I then folded the two fronts together and then sewed the side, then I turned it inside out
4) Next for the pleated strip in the middle. I cut the fabric 32″x1 1/4″. I didn't need that long but I didn't want to be too short
5) I then folded one side 1/4″ and ironed it
6) I folded the other side 1/4″ and ironed it. I didn't want to hem the edges of it
7) Now for the pleats. I used my sewing machine to do it. I first put the needle into the fabric to hold it. Then I push the fabric to make a bump.
8) I then put down the presser foot on the bump to flatten it out and make the pleat. I then sewed it. I did that to the whole strip
Here it is completed
Here are the two pieces
9) I then pinned the two together and sewed them together. I then hemmed the ends.
10) I then sewed (by hand) some snaps onto the strip.
Add it to the watch band and just like that, it's completely transformed.
Here's another one that I did, doing a ruffle in the middle.