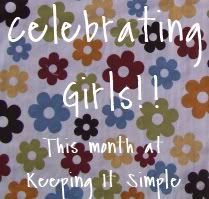 After every pregnancy, I get an itch to get something new. This time I have wanted some new skirts. I wear a lot of skirts that I have from when I was in high school, so it's time for some new ones. I went shopping and couldn't find any that were my style or in my price range. So, I decided to make some for myself.
I made two of the
reversible skirts
(and one for my baby). I just love how they lay on me and how I can turn them around and it's like having another skirt!
Then I made a fun circle skirt. I got the idea
here
.
I'm going to try to explain the best I can but if you don't understand, Dana from
MADE
does a great job explaining it!
The sewing part is super easy for this skirt, really all you have do is sew the skirt to elastic and that's about it. Because it's a circle, you have to do a little bit of math to figure out how big you need your circle to be.
Here's a little math review: circumference is the distance around a circle and the radius is the distance from the center of the circle to outer edge.
The equation to get the circumference is 2 x radius x pi (3.14)
Well we know what our circumference is going to be (your waist measurement). Add a couple of inches so it can get over the hips :). So we need to find the radius and here's how:
Your waist around in inches + 2 inches, all divided by 6.28
So what you need to do is measure your waist, add 2 inches and divide that number by 6.28. So my waist measured 34. 34+2=36 Then divide it by 6.28 and I got 5.75 inches. This is going to be the radius for the inner circle. Then I wanted the skirt to be 22″ long. I added that to the 5.75″ to make 27.75″ and that will be the radius for the outer circle.
To figure out how much fabric you will need, take the outer circle radius, 27.75″ in my case and times it by 2. So I needed 55.5 inches, both width and length. So I found some fabric that was 58″ wide and bought 58″ of it, I got extra just in case.
Now it is time to make the pattern
1) I put several pieces of paper together and used that. Starting from the right angle, measure your inner circle radius and mark it on the paper
2) I then marked the 5.75″ for several different angles and then connected the dots
3) I then marked the outer circle, measuring 27.75″. I did it at several different angles and then connected the dots
4) I then cut out my pattern.
5) I then folded my fabric in half and folded in half one more time. This pattern is for 1/4 of the circle. With the right angle to the left bottom, I pinned the paper to the fabric and cut out the fabric.
Here is the circle!
Now for the elastic: 2 inch elastic is great for little girls, 3 inch elastic is great for adult. Sadly the only place for me to get things is Wal-Mart and all they had was 1 1/2 inch elastic (I was surprised they even had that).
6) Measure your waist and add one inch for the hem. So I cut mine 35 inches. I sewed the two pieces together.
7) Then I flattened the elastic and sewed the flaps down
Now it is time to add the skirt to the elastic.
8) Using a zig-zag stitch, I sewed the inner circle and outer circle to prevent fraying because I don't have a serger.
9) Then I pinned the elastic to the skirt. I used eight pins and tried to put them evenly around the skirt. The skirt is bigger than the elastic, so there will be some gathering.
10) Using a straight stitch, I sewed the skirt to the elastic and that's it!
Now try it on and twirl, I guarantee you will want to twirl!!
Super easy, huh? There's a little math involved but that's about it!