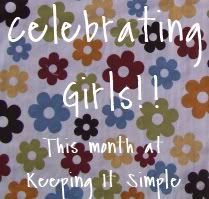 It is so fun having a little girl to make things for!! I have had a pretty big obsession with hair bows, she doesn't leave the house without one! She has so many that one outfit has two or three bows that go with it :).
You've probably seen these before, they are flowers made out of zippers. They are super cute and super easy to make!
This is how I made the 5 petal flower:
2) Using a needle and thread, I sewed the side of the zipper. My stitches were about 1/2″ apart.
3) Once I got to the end, I pulled the thread tight until it made a U shape and then I tied off my thread.
4) I did this for all 5 strips
5) I then took one more 3″ strip and sewed it
6) When I pulled the thread tight, I made it into a circle and tied the thread
7) Using felt, I cut a little circle and started gluing the pieces onto the felt with a glue gun
This is what it looks like
8) I glued on a rhinestone and glued it onto a clip
Then I put it on my cute little girl!!
This is how I made the circle flower:
1) I took a 22″ zipper and separated the sides. Then I cut one strip 12″ long
2) I sewed the side all the way to the end. Each stitch was about 1/4 inch apart
3) I pulled the thread tight to make it in a spiral shape. Make sure not to pull it too tight or it won't work (I learned this the hard way)
4) On a piece of felt, I glued one end to the felt. Then I worked around the middle, gluing down the zipper.
5) I then glued a rhinestone in the middle of it
6) I added some ribbon to make it look like leaves and then glued it onto a clip