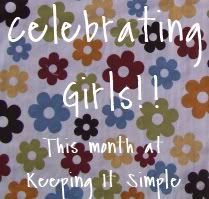 It is so much fun making flowers out of fabric!! Here are two flowers that you can make by using circles! Both are super easy!
For the 6 petal flower, I got the idea
here.
This is how I made it:
1) I traced out 6 circles on the back of my fabric. These were about 3 inches in diameter
2) I then cut out the circles
3) I then folded one of the circles in half and then in half again
4) With a needle and thread, I sewed the bottom and pulled the thread tight. I then sewed back and through the last of the petal to make sure it stayed nice and tight.
5) Using the same thread, I did the same thing for the next petal
6) I continued to sew all of the 6 petals. I then sewed the first and last petal together to make a circle in the middle.

7) To cover the circle in the middle, I made a rosette (tutorial
here)
with the same fabric and glued it on. Then I glued it onto a clip.
For the circle flower
This is how I made it:
1) I cut out 5 circles, each about 2 inches in diameter
2) One circle is the back and 4 others are the petals. I took on circle and folded it in half and then folded it in half again. Then I put the tip in the middle of the bottom circle and sewed it into place
3) I then did that for the rest of the petals
4) Add a rhinestone or button in the middle to hide the thread and then put it on a cute little girl!